Upgrade your outdoor dining experience with a dining set
Are you looking for a way to enjoy the outdoors while also having a comfortable and stylish dining experience? Look no further than Leisuregrow and Kettler dining sets!
One of the main benefits of a dining set is that it provides a designated space for outdoor eating and entertaining. No more trying to balance plates on your lap or awkwardly trying to eat off of a small side table. With a dining set, you can comfortably gather with family and friends around a table designed specifically for outdoor use.

Dining set brands: Leisuregrow and Kettler
Both Leisuregrow and Kettler are well-known brands in the outdoor furniture industry and offer a variety of dining set options to suit your needs and style preferences. From traditional wooden sets to more modern metal designs, there is something for everyone.
One popular option from Leisuregrow is their Marseille range, which features a combination of aluminium and synthetic rattan materials for a durable and weather-resistant set that still looks stylish. Kettler also offers a range of materials, including their popular metal mesh design, which is not only comfortable but also easy to clean.
In addition to providing a comfortable dining space, many dining sets also come with additional features, such as parasols for shade on sunny days or cushions for added comfort. Leisuregrow's Marseille range even includes a built-in ice bucket for keeping drinks cool during those hot summer days.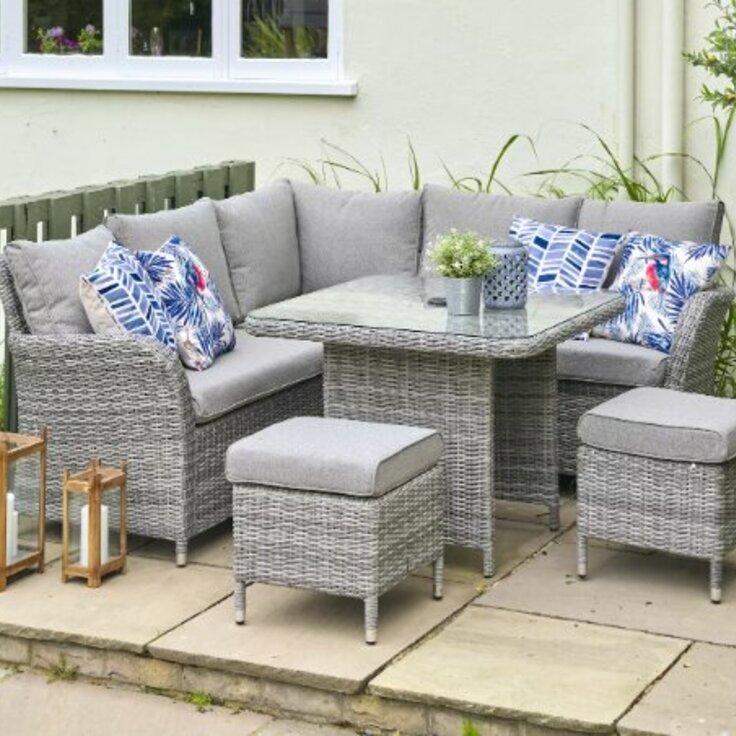 Size matters
When shopping for a dining set, it's important to consider the size of your outdoor space and the number of people you typically entertain. Many sets come in various sizes, so you can choose one that fits your needs. It's also a good idea to look for sets that are easy to clean and maintain, as outdoor furniture can be subject to harsh weather conditions.
Investing in a dining set from brands like Leisuregrow and Kettler can add both comfort and style to your outdoor space, making it the perfect place to entertain guests or enjoy a meal with your family. So why not bring the comfort of indoor dining to your outdoor space with a high-quality dining set today?