Unveil the Beauty of Nature at Jones Garden Centre: Your Haven near Dublin
Nestled in the charming town of Donabate, just a stone's throw away from Dublin lies the enchanting Jones Garden Centre. A haven for nature enthusiasts and gardening aficionados, this centre offers an array of plants, expert guidance, and a serene atmosphere. Let's explore why Jones Garden Centre is a must-visit destination for anyone seeking to enhance their gardening experience in the vicinity of Dublin.
Diverse Plant Collection
Jones Garden Centre boasts an extensive and diverse collection of plants, catering to a wide range of gardening aspirations. From vibrant seasonal blooms to sturdy shrubs and trees, their inventory is a true horticultural treasure trove. Whether you're an experienced gardener or a novice eager to create a green oasis at home, the centre provides a plethora of options. Each visit promises inspiration and the discovery of that perfect addition to your garden.
Expert Guidance
At Jones Garden Centre, a team of knowledgeable staff members, deeply passionate about all things botanical, awaits you. They are readily available to offer expert advice on plant selection, care tips, and even landscaping ideas. Unsure about which plants thrive best in your specific conditions? Need assistance in creating a harmonious garden design? The experts at Jones Garden Centre are enthusiastic to assist, helping you transform your gardening dreams into reality.
Gardening Essentials and More
Beyond the remarkable plant selection, Jones Garden Centre stocks a comprehensive range of gardening tools, accessories, and supplies. From premium-grade soil and fertilizers to elegant pots and garden ornaments, you can find everything needed to elevate the beauty and functionality of your garden. Notably, the centre goes beyond plants, offering Weber BBQs and garden furniture, enriching your outdoor living experience.
Weber BBQs and Garden Furniture
For those seeking to elevate their outdoor living, Jones Garden Centre presents a selection of Weber BBQs and garden furniture. Revel in the art of al fresco dining with Weber BBQs that promise exceptional culinary experiences and unforgettable gatherings. Enhance your garden's charm with thoughtfully curated garden furniture, perfect for relaxation and entertainment. Whether you're a barbecue enthusiast or yearn for an inviting outdoor haven, Jones Garden Centre caters to your desires.
Café Retreat and Relaxation
Beyond its horticultural offerings, Jones Garden Centre features a charming on-site café, inviting you to unwind with freshly brewed beverages and delectable treats. After exploring the lush displays and making your selections, take a moment to immerse yourself in the soothing environment, revitalizing both body and spirit.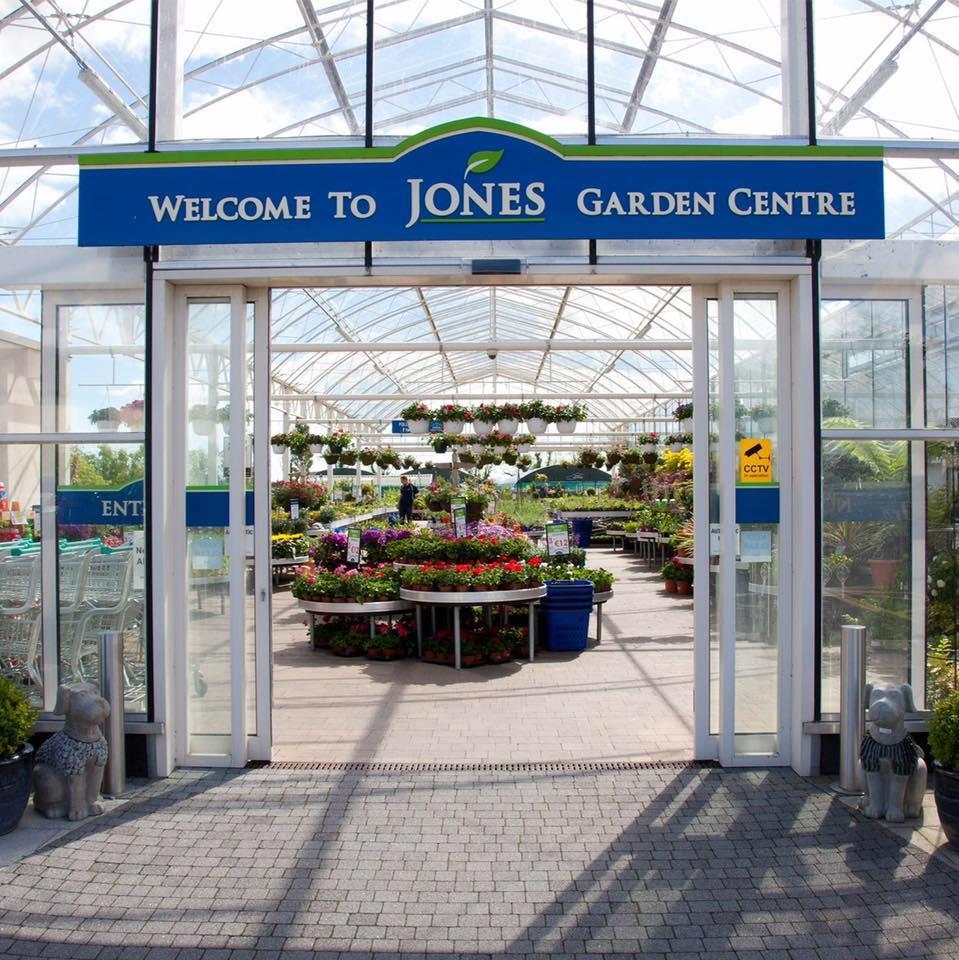 Visit Jones Garden Centre today!
Jones Garden Centre, nestled conveniently near Dublin, transcends its role as a traditional garden centre. It's a sanctuary of inspiration and knowledge, inviting you to connect with the beauty of nature. With its diverse plant selection, expert guidance, family-friendly atmosphere, and captivating extras like Weber BBQs and garden furniture, this centre promises an experience that leaves you inspired, informed, and closer to the serenity of the natural world.