Choosing the Right Outdoor Shade Solution: Comparing Parasols and Gazebos
When the sun is shining, there's nothing better than relaxing in the garden and soaking up the rays. However, too much sun exposure can be harmful to your skin and eyes, which is why many people turn to parasols and gazebos for shade and protection.
Types of Parasols
Parasols, also known as umbrellas, come in various sizes and styles, making them a versatile option for shading your outdoor space. Here are some of the different types of parasols available:
Portable Parasols: These lightweight and compact parasols are easy to move around and set up, making them ideal for small outdoor spaces or for taking to the beach.
Cantilever Parasols: These parasols have a flexible arm that allows you to position the canopy at different angles, giving you more control over where you want the shade to be.
Market Parasols: These are the most common type of parasols, often found in outdoor dining areas or cafes. They typically have a round canopy and a central pole and can be raised or lowered as needed.
While parasols are a convenient and affordable option for shading your outdoor space, they offer protection only from the sun, not from wind or rain.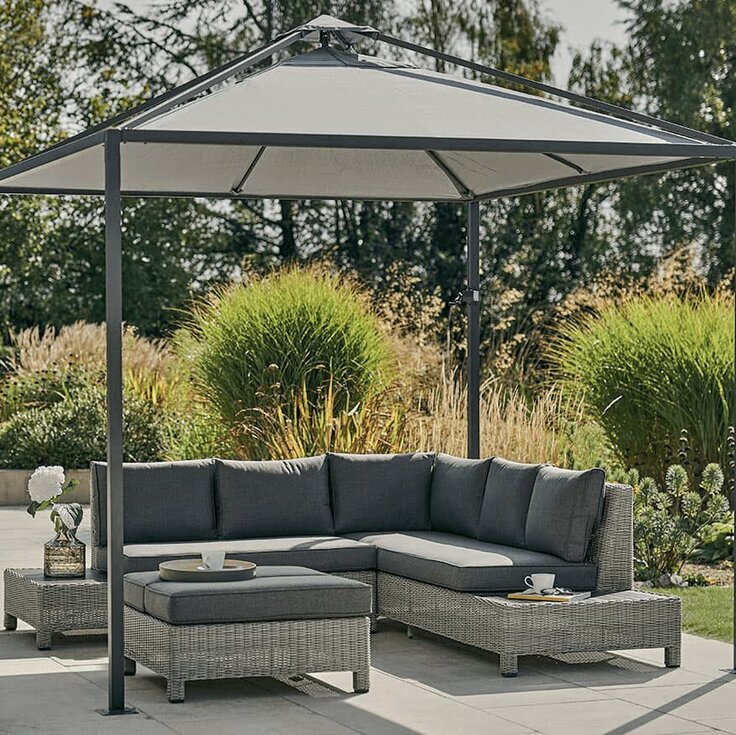 Types of Gazebos
Gazebos are freestanding structures with a roof and open sides, providing shelter from both the sun and rain. Here are some of the different types of gazebos available:
Pop-up Gazebos: These are lightweight and easy to set up, making them a great option for temporary use, such as for outdoor events or camping trips.
Permanent Gazebos: These are more substantial structures that are designed to be a more permanent feature in your garden. They are often made from wood or metal and can be customized to match your outdoor décor.
Screened Gazebos: These have a mesh screen around the sides, providing protection from bugs and other pests while still allowing you to enjoy the outdoors.
Pergolas: These are similar to gazebos but have an open roof design with crossbeams instead of a solid roof. They offer partial shade and are often used as an outdoor feature for growing vines or hanging plants.
While gazebos offer greater protection from the elements than parasols, they can be more expensive and require more space and effort to install.