Garden buildings assortment Co-Op Superstores - Ballymakeera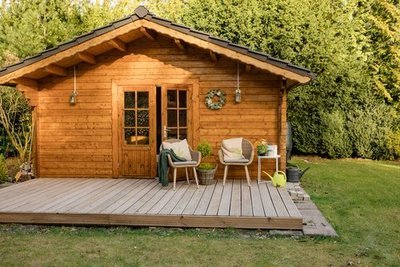 Find some tough garden buildings at Co-Op Superstores - Ballymakeera in Ballymakeera. Garden buildings give your outdoor space a sense of place and permanence: imagine a pretty summerhouse at the end of your garden path, or a simple open pavilion tucked into the corner under the clematis and roses. It invites you out to sit among your plants and really enjoy your garden, perhaps with a glass of wine in hand: furnish it with some stylish chairs or sofas and you'll never want to go back indoors.
Select the ultimate shed at Co-Op Superstores - Ballymakeera in Ballymakeera
A shed is a must-have garden building for storing your tools and other garden equipment: but it can be so much more than that. Decorate it to your taste in stylish shades of wood stain (pick up your favourite colour from the garden centre) and personalise it with stencil designs, curtains, furniture, perhaps a fridge and a bottle of beer...
Come to Co-Op Superstores - Ballymakeera in Ballymakeera to see assembled sheds as they'll be in your garden to get a better feel of what they're like inside. Your shed should be high enough for you to stand up in: shelves and a workbench with windows over the top are a great addition too.
Co-Op Superstores - Ballymakeera for garden buildings with style
Once you've got a taste for sheds,it won't be long before you're hankering after a summerhouse or garden studio for a sheltered place where you can relax and enjoy your garden. If the budget doesn't stretch to a full-sized garden building, have a look at the pavilions, gazebos and arbours also available at Co-Op Superstores - Ballymakeera's range: they'll give you the feel of a garden building but with a lighter touch. And for smaller spaces our scaled-down sheds are perfect for bike and bin storage in even the tightest of corners.
Rules for garden buildings
Garden buildings in Munster, including sheds and summerhouses, rarely need planning permission, especially if they're under 30m² and more than 2m from the nearest boundary. The exceptions are buildings which can be described as 'habitable', and gardens by listed buildings or in conservation areas.
Put your garden building in the best spot you can find: consider what view you'll have from it when you're sitting inside, and how much natural light it will get. You may also need to get an extra electricity connection installed. If you need any extra advice, just ask the knowledgeable staff at the garden centre who will be pleased to help talk you through the options.