Lawn assortment Woodie's Athlone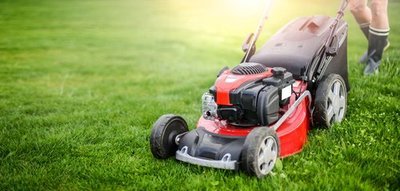 Get a great lawn with grass from Woodie's Athlone in Athlone. Lawns are as British as fish and chips. Research suggests there are around 15 million lawns in the UK, covering an area one and a half times the size of Greater London. After all, lawns are so useful: for setting off your plants, sunbathing, garden parties, playing football and having picnics, they're the heart of the garden from spring to autumn.
Plant the perfect lawn with Woodie's Athlone
The first deliveries of rolled turf arrive at the garden centre in spring and autumn, to coincide with the best times of year for establishing a new lawn. If you're thinking of laying new turf contact Woodie's Athlone as soon as possible to reserve your supplies.
Prepare your soil well before you pick up the turf, as you'll want to lay your lawn straight away: fork over the whole area, rake, then tread it flat and rake again until it's completely level and smooth. Let it settle a few days, raking again if hollows appear, and it's ready to turf.
When sowing a lawn from seed, the timing isn't quite so critical, though your lawn will take a little longer to establish. In the garden centre you'll find mixes for all sorts of lawns, from fine grasses for a state-of-the-art bowling green to our ever-popular hard wearing utility mix, plus specialist mixes for shady or damp lawns.
Caring for your lawn from Woodie's Athlone
Mowing is an essential task right through summer. A good-quality electric or petrol powered mower from the range at Woodie's Athlone in Athlone makes the job easier. Adjust the blades according to the season, mowing higher at the beginning and end of the season and also during dry weather, so the lawn isn't scalped.
Apply a feed-and-weed treatment in spring for a quick boost, then in autumn carry out your annual lawncare. Remove thatch with a wire-tined rake, then spike poorly-drained lawns with a fork and brush in sand to open up the soil. Finish with a specially-formulated top dressing from the garden centre for a deep feed that'll last the rest of the season.
Specialist lawns from Woodie's Athlone
Of course lawns don't have to be all grass. You'll find some fantastic meadow mixes to sow into your existing grass in the garden centre, as well as the new range of pre-sown wildflower turf to lay straight onto the ground. Ask the staff at your Leinster garden centre for details and your back yard meadow could be flowering by next summer!