Cut flowers assortment Co-Op Superstores - Mogeely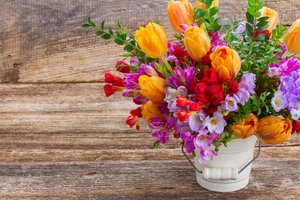 At Co-Op Superstores - Mogeely in Mogeely you'll find a lot of cut flowers that brighten up your world from the moment they're in the vase, filling the room with freshness, colour and perfume and transforming the dullest of corners into a little paradise. So treat yourself as often as you can – and spread the love a little with a surprise bouquet for a friend, loved one or colleague.
The cut flower boutique at Co-Op Superstores - Mogeely has seasonal blooms for every month of the year in exciting designs and combinations, from charming little posies to extravagant roses, lilies and tropical beauties. Just pop into the garden centre on your way home and pick up whatever you fancy.
Cut flowers they'll love from Co-Op Superstores - Mogeely in Munster
The knowledgeable staff in the Co-Op Superstores - Mogeely here in Mogeely can help you choose just the right bouquet of cut flowers. Think about the style of the person you're buying for: are they a chintzy, cosy sort of a person? If so, they'll love romantic flowers like freesias, roses and sweetpeas in delicious scents and pastel shades. Funkier, more alternative types might like an exciting combination of brilliant colour from gingers, anthuriums, calla lilies and orchids. And if you know of a favourite colour or flower, make sure you include it.
Caring for your cut flowers from Co-Op Superstores - Mogeely
Cut flowers from our Munster garden centre are delivered to you as fresh as possible but you can extend their life still further by giving them a little extra care when you get home. Remove lower leaves, then trim off the ends of the stems with a sharp knife to create a newly-cut surface which absorbs water more efficiently.
Keeping your cut flowers from Co-Op Superstores - Mogeely happy
Use clean tap water for your flowers and make sure you top it up regularly – cut flowers take up far more water than you might think! Changing the water every few days keeps it clear, too.
Ask for a few extra sachets of soluble plant food from the cut flower department: these supply all the nutrients your flowers need and is easy to add to the water just before you put the flowers in. You'll need an extra sachet each time you change the water, though: one sachet is good for about a pint of water.
Another really good tip for keeping the water clear and fresh: add a quarter of a teaspoonful of bleach to the water as well. It'll prevent micro-organisms from multiplying. Treated well, your cut flowers give you weeks of sheer, beautiful pleasure.
Beneath you'll find more information about the product range of Co-Op Superstores - Mogeely in Mogeely or check the address details and opening times of Co-Op Superstores - Mogeely in Munster.