Power tools assortment Co-Op Superstores - Killumney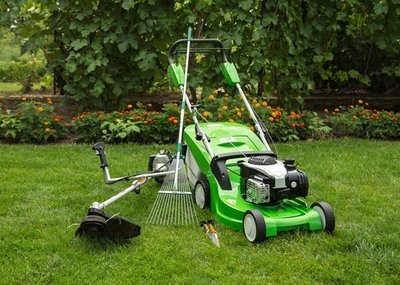 Lots of power tools for you garden at Co-Op Superstores - Killumney in Killumney! Power tools cut through garden work like a knife through butter. There's no job that can't be made a little easier with a power tool: mowers, of course, are the best known, but other power tools which should be in every garden shed include hedgetrimmers, strimmers and brushcutters, leaf blowers and shredders – all available at Co-Op Superstores - Killumney here in Killumney.
Electric or petrol power tools from Co-Op Superstores - Killumney
Most power tools come in two different models: electric, or petrol powered. Electric power tools tend to be lighter and easier to handle, and generally don't take up much room: ideal for smaller gardens. You'll need an external power socket fitted by a qualified electrician, and a circuit breaker as an extra safety precaution.
Petrol machines are great if you don't have a power source to hand – on allotments, for example, or in large gardens. They're also larger and heavier – another consideration to weigh up when deciding which to choose. They are however real powerhouses of strength and will make light work of the toughest of jobs.
Selecting your Co-Op Superstores - Killumney lawnmower
A lawnmower is the power tool owned by every gardener, essential for keeping your greensward in perfect condition. Powered lawnmowers make the job a pleasure, sweeping through your turf and giving it a really professional finish: choose a cylinder mower with a roller on the back and you can even manage stripes.
Rotary mowers are a good alternative for general-purpose use and cope with uneven lawns really well. They might not give such a perfect finish as a cylinder mower but they're great for everyday use. And hovers are the best-selling models: floating just above the ground, they're very easy to move over your lawn, and come in both electric and petrol-powered models.
Looking after your power tools from Co-Op Superstores - Killumney
Take good care of power tools and they can be a real investment, giving you sterling service for decades. Clean the blades of hedgetrimmers, and brush off debris from the heads of brushcutters after every use to keep them sharp, free of sap and grass, and ready for action.
If you're storing power tools for any length of time – over winter, say – empty out the petrol, and protect blades from the damp with a few drops of oil. Book your power tools in for a service long before the season starts – ask the staff at Co-Op Superstores - Killumney for wide servicing facilities.