Garden lighting assortment Co-Op Superstores - Cahir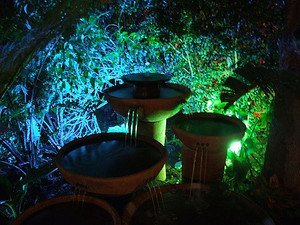 Buy your garden lighting at Co-Op Superstores - Cahir in Cahir. Garden lighting is often an afterthought – but in fact it's important to include it right from the start. Outdoor lighting can create lots of dramatic effects and make the atmosphere on summer evenings positively magical: and it's even better for safety and security, lighting paths and steps and preventing accidents.
Garden lighting is really easy to install, especially with kits from the garden centre here in Cahir. You'll find everything from security lights to fairy lights, uplighters and pond lights creating designer effects for your garden.
Safe garden lighting from Co-Op Superstores - Cahir
Safety first: the garden lights you'll find in your Munster garden centre are all low-energy LED lights and fully safety-checked. We recommend you hire a qualified electrician to install electrical wiring and external plugs outdoors, just to be on the safe side. And site outdoor sockets and switches under a canopy or overhang, or otherwise sheltered from the rain.
Get familiar with the IP rating for your chosen lighting, too: IPx3 means it will cope with rain, IPx4 protects garden lighting from water splashes from, say, a fountain; whereas IPx5 is the highest rating possible and able to withstand water jets from any direction.
Use garden lighting from Co-Op Superstores - Cahir to make your garden shine
When it comes to deciding how to light your garden, you'll find you're spoilt for choice. Recessed garden lighting installed in paving and decking is a subtle way of marking changes in level, steps and paths. Solar powered path lighting is ultra low energy and portable.
But if you're going for drama, use uplighters: angled lights which throw a particularly beautiful plant into stark relief, taking on a striking character all its own after dark. Try this with large, stately trees and plants with a naturally architectural form, like yuccas, tree ferns and palms.
Dining by candlelight
Of course you don't need to wire in your garden lighting to enjoy its soft, romantic effects. You'll find a great range of solar lighting in your Munster garden centre for spot lighting or floating on ponds as a gentle pool of light. A string of fairy lights over a pergola or verandah turns an evening meal into a magical experience. And don't forget candles: pick up a decorative lantern or hand-crafted candle holder from the garden centre, fill them with tea lights and hang them around the garden for soft, flickering light and the air of romance.