Flower bulbs assortment Co-Op Superstores - Bunratty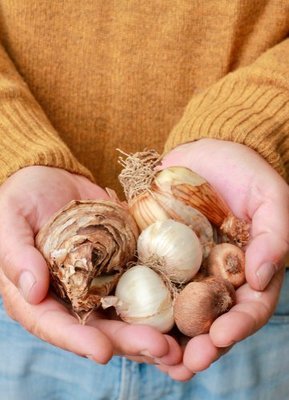 At Co-Op Superstores - Bunratty in Newmarket-on-Fergus you'll find a broad range of flower bulbs. Flower bulbs fill your garden with colour every day of the year. They come ready supplied with all they need to grow, packed into that fat little package: just add soil and water.
Every box of flower bulbs at the garden centre in Newmarket-on-Fergus holds a little treasure trove of possibilities. There's always a new variety to try, or an old favourite to welcome back into your garden. Don't worry if you miss the initial rush: you can always pick up ready-started bulbs in pots to drop into the garden at any time of the year.
Year round colour from Co-Op Superstores - Bunratty flower bulbs in Newmarket-on-Fergus
The displays of colour, scent and dainty flowers start early when you're growing flower bulbs: in fact you can have bulbs flowering in the house all the way through Christmas. Just buy prepared bulbs from Co-Op Superstores - Bunratty in autumn and you can force them into flower much earlier than usual. Try sweetly-scented paperwhite narcissi, sumptuous hyacinths or even species tulips in generous potfuls.
In spring you're spoilt for choice, with a huge range of crocus, daffodils, tulips and more unusual flower bulbs like chionodoxa, scilla and fritillaries. But remember to include some later flowering bulbs: at your - garden centre you'll find handsome purple drumstick alliums, gorgeous gladioli and sumptuous lilies in every colour of the rainbow.
Late-season flowering bulb colour from the selection at Co-Op Superstores - Bunratty
Plant autumn flowering bulbs in spring and early summer and you can look forward to a fabulous grand finale to top off your season. Autumn-flowering crocuses are less well known but just as pretty as their spring cousins: try the saffron crocus, and crocus lookalikes Sternbergia, in brilliant sunny yellow. And top off your display with some exotic-looking nerines in dramatic cerise pink – perfect for a sunny, well-drained spot.
Planting your flowering bulbs
Once you've got them home, planting your flowering bulbs from Co-Op Superstores - Bunratty in Newmarket-on-Fergus couldn't be easier. Most are easy-going about soil, though for the showier types like tulips it helps to add a handful of grit in the bottom of the hole in heavier soils to help drainage.
Plant your flowering bulbs at a depth three times the size of the bulb: so tiny crocus corms, just 1cm across, go in at just 3cm, while big bulky tulips measuring up to 8cm across can be planted much deeper, around 24cm into the soil. Then just sit back and wait for the show to begin.